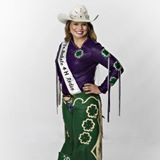 2016 SD 4H Rodeo Ambassador MORGAN JANISCH
https://www.facebook.com/South-Dakota-4-H-Rodeo-Ambassador-541615172549061/?fref=ts
---
June 6,2017
UPDATE: Yesterday the SDHSAA Board of Directors voted 6-2 to allow a one time exception allowing schools with 9 man and 11B football to start practice one day earlier opening up the option of a Thursday night football game and averting the conflict with the 4H Finals Rodeo. The SD 4H Finals Rodeo Board wishes to acknowledge and thank the SDHSAA Board for making this exception!
 4H Rodeo Contestants/Families,
Recently it has been brought to our attention that due to changes in both the 11 and 9 man football calendar for 2017, the first friday night game of the season will now conflict with the SD 4H Finals Rodeo.  Representatives of the SD 4H Finals Committee attended the last SDHSAA meeting held April 18th to discuss options to avoid 4H Rodeo contestants having to choose between rodeo and football.  After discussions failed to produce a resolution to the conflict the finals committee representatives requested that the SDHSAA explore the option of moving the first football game to Thursday night to alleviate a conflict.  Our request was denied.
The 4H Finals Rodeo committee is acutely aware of the significant number of contestants this will affect and desperately wish to find a workable solution.  Many of our outstanding rodeo athletes are also football players, cheerleaders, band members, etc.  Due to the large number of contestants this will affect it will not be possible to set performances to accommodate the conflict.
Now is the time for your voice to be heard.  If you will be affected by this change to the 2017 football schedule please take the time to reach out to your school's athletic director, football coach or directly contact the SDHSAA (email and phone numbers are on the website, http://www.sdhsaa.com) to voice your concern and support for moving the first football games to Thursday night for the 2017 season.
The 4H Finals Rodeo Committee's would never wish to limit your chance to shine whether it be in the rodeo arena or on the football field or any other sport.
Thanks Don Bergeson 4H Finals President
---
ALL 4-H Rodeo Contestants MUST complete the SD 4H Rodeo Entry  packet in order to compete at ANY 4-H approved regional rodeo.  The Finals Rodeo Tab contains instructions and a link to the SD 4h Rodeo Entry Packet.
Be sure to review the Finals Rodeo tab periodically as items of interest or last minute details for the Finals Rodeo may be highlighted there. As always, continue to read through the Ground Rules section of your Finals Entry Form Packet to familiarize yourself with the Finals Rodeo and with any changes since you last competed at the Finals Rodeo.
Quick Links:
Several files on this site require Adobe Acrobat Reader. Please download a free copy of the reader by clicking here.